We are sisters that are raising money to help others.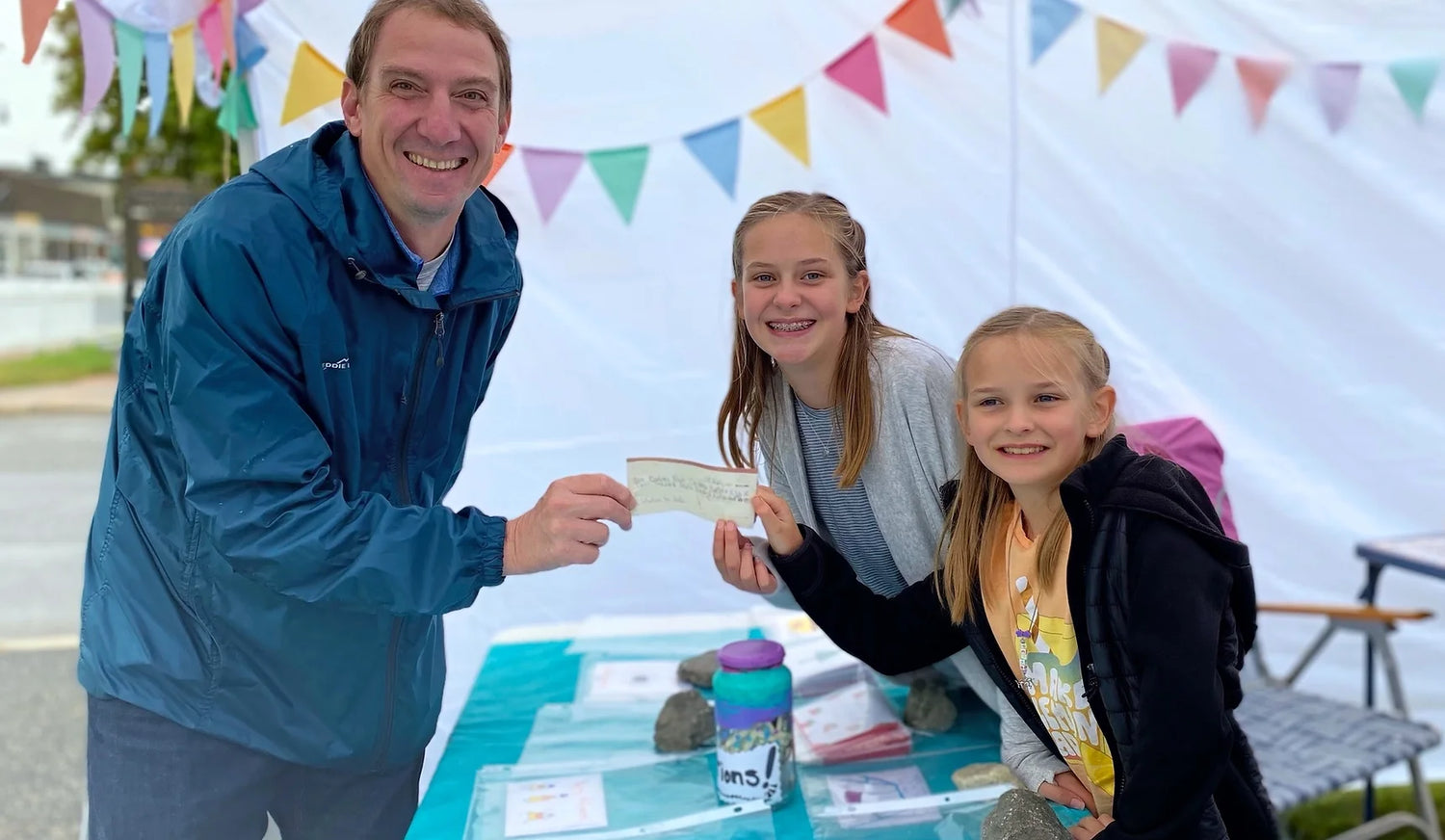 Passing on the money we raised so far to the Barbara Bush Children's Hospital
Get ready for the holidays!
FAQ's
Are the cards handmade or printed?

The cards are printed in the USA from drawings that were handmade by Juliana and Eliza. If you want a handmade card we will make them for you but they are $10 per card while the printed cards are $5 per card. If you do order handmade cards please understand they may take longer to ship as they have to be made by Juliana and Eliza - some cards are relatively easy and take 10 minutes, other cards take up to an hour each.
Can you tell us more about the Barbara Bush Children's Hospital?

The Barbara Bush Children's Hospital (BBCH) is the only full service children's hospital serving the state of Maine. They do amazing work and we have been moved by the stories families tell of their care and care teams at BBCH. While we have not had to be patients at BBCH, at our craft fair card sales we always meet people who were born there, were patients in their childhood, or had family or friends who were patients. If you want to learn more about BBCH click this link: Maine's only full-service children's hospital | MaineHealth. If you would like to donate directly to BBCH, click this link: Donate to BBCH (mmc.org)
Are you really trying to raise $50 million?

That is Eliza's goal. She may be small but she thinks big. There are hundreds of children's hospitals across the United States and many of them are smaller in size and in need of our help to be able to provide necessary and life-saving care to children across the country. While our near term focus is on raising money for the Barbara Bush Children's Hospital, our longer term goal is to be able to provide support to as many children's hospitals as possible.
Where can we learn more?

Follow us on our socials, links below.  We will be regularly posting content across platforms to update everyone on our progress and new card designs that Juliana and Eliza come up with.  You can also sign up to receive periodic emails from us that will have similar information.  We are grateful for everyone's support; together we can make a difference.
How can we contact you?

Send us an email: hey@splattersforkids.com We want to hear from you: suggestions, complaints, compliments.  If there is a card design you are looking for but don't see, drop us an email and Juliana and Eliza will try and come up with something for you. 
Is shipping free?

If you order $25 or more worth of products, shipping is free; otherwise it is a flat charge of $2.50.  Our goal is to donate as much money as possible from the sale of cards to the Barbara Bush Children's Hospital.  The cost of packaging and shipping one or two cards is significant relative to the amount we can donate which is why we charge shipping on smaller orders.  Thank you for understanding.
Is there sales tax on my card order?

Where we are required to collect sales tax it will be automatically added to your order.
When can I expect to receive my order?

Our goal is to ship orders as soon as possible.  We will keep you informed every step of the way and we thank you for helping us in our goal to raise money for the Barbara Bush Children's Hospital.
Are you a 501(c)(3)?

Splatters for Kids, Inc is a Delaware registered not for profit and is classified as a 501(c)(3) by the IRS.
Are card purchases tax deductible?

We will provide you a tax receipt for the portion of every card purchase that is tax deductible. Ultimately the tax deductibility is dependent upon your specific tax situation as determined by your tax professional.
Are donations tax deductible?

100% of the money donated through our Donate page is tax deductible and we will provide you a tax receipt for the entire amount.  Splatters For Kids, Inc. is a Delaware registered non-profit.  The IRS has a website where you can search for tax exempt organizations and you can find us listed there.